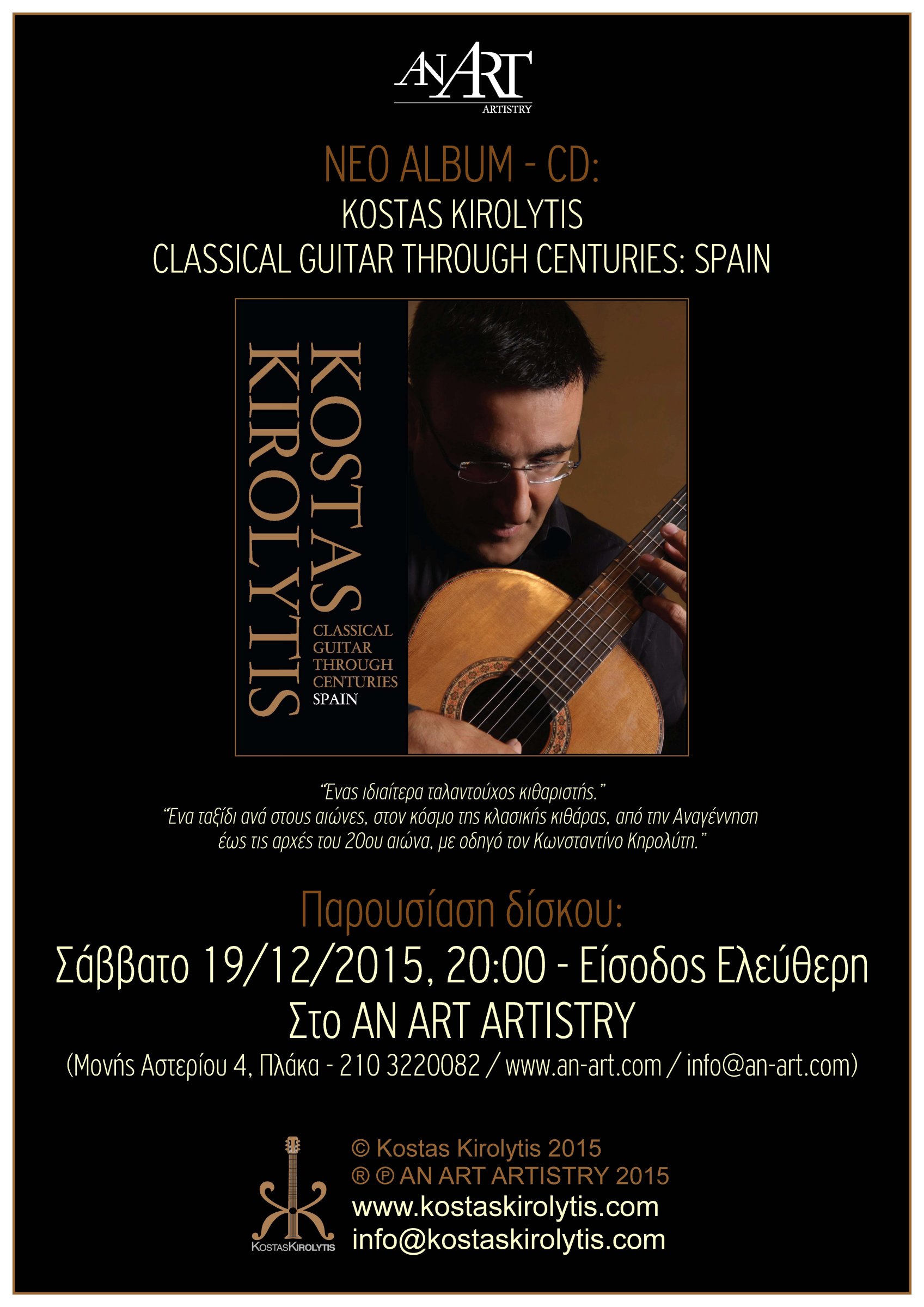 An Art Presentation
"Kostas Kirolytis is a highly talented guitarist of the younger Greek guitarists generation."
"A journey to the world of classical guitar, through the centuries, from the Renaissance
until the beginning of the 20th century, driven by Kostas Kirolytis."
Kostas Kirolytis presents his first solo album (CD) entitled "KOSTAS KIROLYTIS
CLASSICAL GUITAR THROUGH CENTURIES: SPAIN"(2015). The album an "AN ART ARTISTRY" production
and consists of works for solo guitar, of Mudarra, Milán, Valderrábano, Narváez, Sor, Arrieta,
Tárrega, Albéniz & Obregon.
The first official presentation of the disc will be Saturday, December 19, 2015 at 20:00 at AN ART ARTISTRY.
The event will be joined by speeches by distinguished artists.
In this classical guitar compilation I attempt to travel you through the centuries, from the Renaissance
(1500) until the beginning of the previous century. A journey full of images, landscapes, tradition and history,
with major works of composers who have contributed greatly to the literature and the evolution of this wonderful
instrument. From the "Pavan" of Luis de Milán, a piece contained in the first book in the music history,
issued about "vihuela", up to the famous "Suite Española" of Isaac Albéniz. Intermediate stations are the
"Fantasia, οp.7" of Fernando Sor, a piece he composed in order to prove his composing capabilities against
Mauro Giuliani, the operatic theme of Zarzuela "Marina" of Pascual Arrieta and the beautiful "A Ma Mie" of
Alberto Obregon, a piece with which he persuaded the great Francisco Tárrega to teach him.
Therefore let's wander in the second half of the previous millennium …
Kostas Kirolytis
Classical guitar: Kostas Kirolytis
Sound engineer: Dimitris Anousis
Photos: Dimos Zitouniatis
Recorded at AN ARTISTRY
Production:® ℗ AN ART ARTISTRY 2015
© Kostas Kirolytis 2015
Saturday, December 19, 2015 at 20:00
ΑΝ ΑRΤ ΑRΤΙSΤRΥ – Μonis Asteriou 4, Plaka (Athens)
210 3220082 /www.an-art.com / info@an-art.com